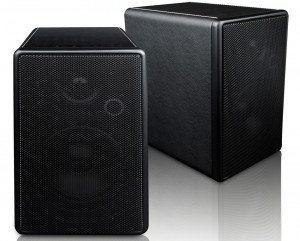 Blue Aura Launches its Sound Designs for Today's Lifestyles.
It's time for a new name in the UK audio market and that name is Blue Aura. Its founders have capitalised on their more than 30 years in the Hi-Fi industry to bring a totally fresh approach to new products that appeal to the most discerning music fan whilst fitting neatly, practically and elegantly into today's lifestyles. The love of music and faithful rich sound hasn't changed but the way we get our songs – whether via the internet, computer drive or MP3 – has. That's why Blue Aura has developed these new exciting alternatives to the conventional audio system that also recognise how we now want our homes to look.
Blue Aura's UK debut features two must-have products: The first of which being the WS80i Wireless Loudspeaker System. The ultimate in space-spacing and sound fidelity, the WS30i Active Monitors provide the perfect compact multi-use listening experience. Fitting neatly on desktop or tidily sandwiched on a bookshelf, these advanced multi- media speakers close the gap between computer speakers and home audio, enabling you to get the most out of sound – and space. Perfect for your iPod, TV or your computer, Wireless joy, the WS80i Wireless Loudspeaker System allows you to send the signal from any device – be it your MP3, your computer or your traditional Hi-Fi to the speakers which you can place anywhere in your home. With the amplifier integral to the unit, there is no need for external amplification. Priced at just £399, the WS80i delivers not only the most faithful sound but also a clean, elegant design – without the mess of cables – anywhere in the home. Thanks to its styling and luxurious finish, the WS80i stands out not only in performance but also design.
With a firm belief in providing great performance and exceptional build quality whilst incorporating the latest technological developments in electronics and manufacturing, Blue Aura will feed your passion for music and design excellence.
For further information, log on to the website: www.blueaura.co.uk
(This is taken from a press release. look out for the speakers featured in the magazine shortly.)
---
Since the dawn of time, man has been on a constant quest to innovate. Advances in science,
technology and mass communications are ensuring we 'have it all'. Whichever way we look at it -
whether out of necessity or luxury – We are fortunate enough to be living in a time when it seems
that perhaps we do.
Whatever our hearts desire, we can have it at the click of a finger; or rather, a button. We are living
in a more connected world for sure, and innovation is constantly knocking on our doors with ever
more ferocity, giving us the ability to interact, communicate, experience things in more ways than
ever before.
Our lifestyles have changed, along with our desires for what is important to our daily lives. We spend an unacceptably unhealthy time in front of the computer and we are online pretty much at all hours of the day and night, which as recent as ten years ago would have been frowned upon, but which now is pretty much a given. In fact it would raise eyebrows if one wasn't!
We can sit back and pretty much take care of almost everything that once demanded legwork,
without having to move an inch. We can order our groceries, do our banking, pay our bills and
go shopping without moving from the comfort of our sofas. Why, we even do all our socialising
increasingly online, which is raising some interesting questions about life/work boundaries and how we interact with one another away from the virtual world. So where is all this taking us as a society? Are we really free to do what we want, or have we become slaves to the very technology that is supposed to 'free' us?
I am of course touching very lightly on a debate that is raging amongst the intelligentsia. It's a
profound and relevant subject matter of our times, which warrants credible input from authoritative
individuals. Something I have been meaning to engage in for a while, and which I will invite creative thinkers and respected 'futurologists' to contribute to in future editions.
In the meantime, I hope you enjoy reading these next few pages as much as I have from our first
round of contributors, with whom I am pleased to start the ball rolling with some interesting
innovations. Some are already here, whilst others are in advanced stages of research. As Albert
Einstein once said, "I never think of the future. It comes soon enough".
See A Vision of the Future: Home Entertainment in 2020
---
The chairman of the IEEE Consumer Electronics Society Standards Committee, Stuart Lipoff, explains why 3D television is set to be the biggest development in home entertainment since High Definition.
So you have just purchased a new flat-screen television and you don't expect to be shopping for an upgrade for at least another ten years. After all, the latest super skinny, extra wide, HD flat-screen is as good as it gets – right? Well television manufacturers might have something up their sleeves that could mean you are off to the shops again sooner than you (or your bank balance) expect. For many of us 3D conjures up images of a dodgy pair of card glasses with one blue lens and one red. Recently however films like Avatar have brought a whole new 3D experience to the big screen and the technology is now making the transition to the small screen.
Although 3DTV is relatively new to the consumer, 3D still photos have been around nearly as long as photography itself. Enjoying 3D still photos through dual eye magnifiers was a popular past-time way back in the late 1800's, and 3D films appeared in cinemas as far back as the mid 1950's. However, it proved to be little more than a fad. 60 years later and 3D has only just returned to the cinema, so should we be already considering shelling out on a 3DTV device for the home? Well yes – actually maybe we should. Technological innovation across the board, from the production of 3D content to the manufacture of home 3D devices, mean the time has never been better. I believe 3DTV will become a reality in the home in the next three to five years. On the production side not only are 3D films such as Avatar being made using computer generated imaging (CGI), but we also have new economical imaging technology that means 3D cameras can be used to capture in 3D at live venues such as sporting events or concerts. It will bring new meaning to the phrase 'getting closer to the action.'
This doesn't necessarily mean you have to go out and buy an expensive new television just yet though. With the technology for producing 3D advancing so fast, there are also new ways to watch TV in 3D without the need for a major purchase. The modern flat screen TVs contain such powerful software that it is possible for you to watch 3D films from the internet or play computer games in 3D, such as on BSkyB's new 3D channel, through either a 3D Blu-ray player or by buying the right adapters and computer monitors from companies such as NVIDIA. If you are ready for an upgrade however, you will be pleased to know that all the main manufacturers (Sony, LG, Samsung, Toshiba etc) either already have, or are set to launch 3DTVs by the end of this year. Some sets are sold as "3D Ready," which means you need to buy other accessories before you can display 3D so make sure you investigate what is needed first…
Click here to read the full article online.
---