One of the biggest anomalies in today's art market is the enduring paucity of female representation. As part of its 30th anniversary celebrations, the Saatchi Gallery in London is doing its bit to redress the balance with an exhibition dedicated entirely to women artists.
In 2012, only 6.5% of artworks offered at auction were by female artists. This glaring statistic, along with many others, demonstrates that while society has made great strides in its quest for gender equality, there remains plenty of work to be done.
Step forward the Saatchi Gallery in Chelsea, which this year celebrates its 30th birthday as one of Europe's most prestigious spaces for contemporary art. To mark the occasion, the gallery is playing host to Champagne Life, an exhibition featuring works only created by female artists.
It is worth noting that the Saatchi Gallery is not the only eminent institution making efforts to shift the gender needle in the art world. Auction house Bonhams is also playing its part by dedicating an entire section of its up-coming Post-War and Contemporary Art sale to individual works by women. And as gender issues become further imprinted on the public consciousness, it is a trend that is likely to continue.
The Saatchi Gallery has certainly created an exhibition that grabs attention. Typically for the gallery's founder Charles Saatchi, Champagne Life favours emerging rather than established artists as it explores a diverse range of themes using methods including painting, taxidermy and clay.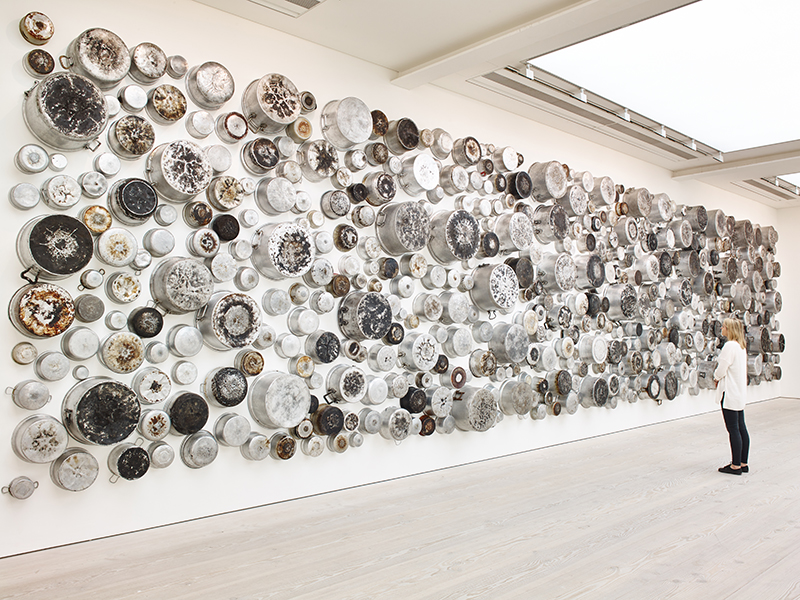 Among the up-and-coming talents to feature in the exhibition is Saudi artist Maha Malluh, whose 'Food for Thought' display comprises a wall covered with burnt cooking pots. The charred bottoms of Malluh's pans pack a resonant punch, representing as they seem to do a burnt-out idea or belief.
Then there are the striking paintings of Sigrid Holmwood, a London-based Australian artist whose Champagne Life exhibit is powerful enough to warrant its own room. Inspired by Swedish history, her works take you on a nostalgic journey that both captivates and intrigues.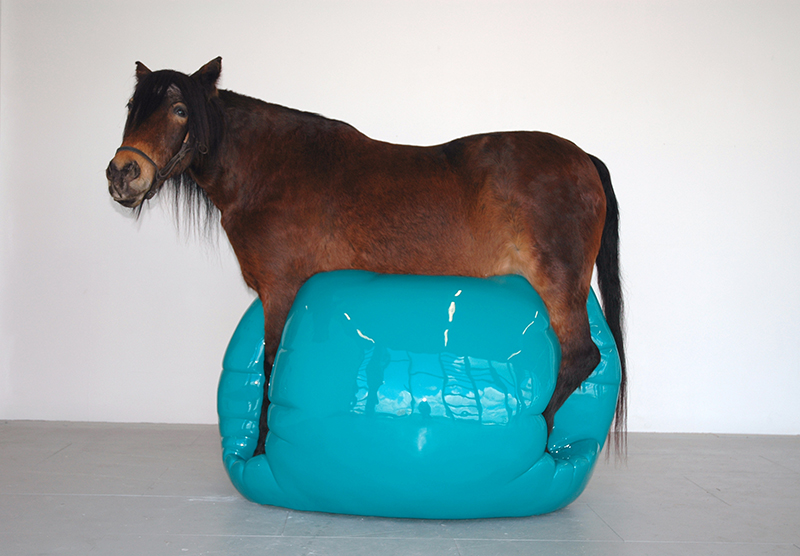 Another Saatchi staple is taxidermy and Iranian born Soheila Sokhanvari pulls no punches with her eye-catching dead horse sitting astride a deflating balloon. Described as depicting a metaphorical relationship with Iran's 'Green Movement' uprising of 2009, it is perhaps the most visually striking piece in the entire exhibition.

So where does the Champagne Life title come from? The answer to this can be found in the works of New York-born Julia Wachtel, renowned for her fascination with the visual language of mass culture. Champagne Life is the name of her works which shows images of celebrities and beauty pageants spliced together with retro cartoon characters. The Warholian inspiration is loud and clear, but Wachtel's individuality also shines through. She is a remarkable talent and a fine role model for all other aspiring artists – male or female. It is the moral that lies at the heart of the Champagne Life exhibition: that art is about the message not the maker.
The Champagne Life exhibition at the Saatchi Gallery runs until March 6th.