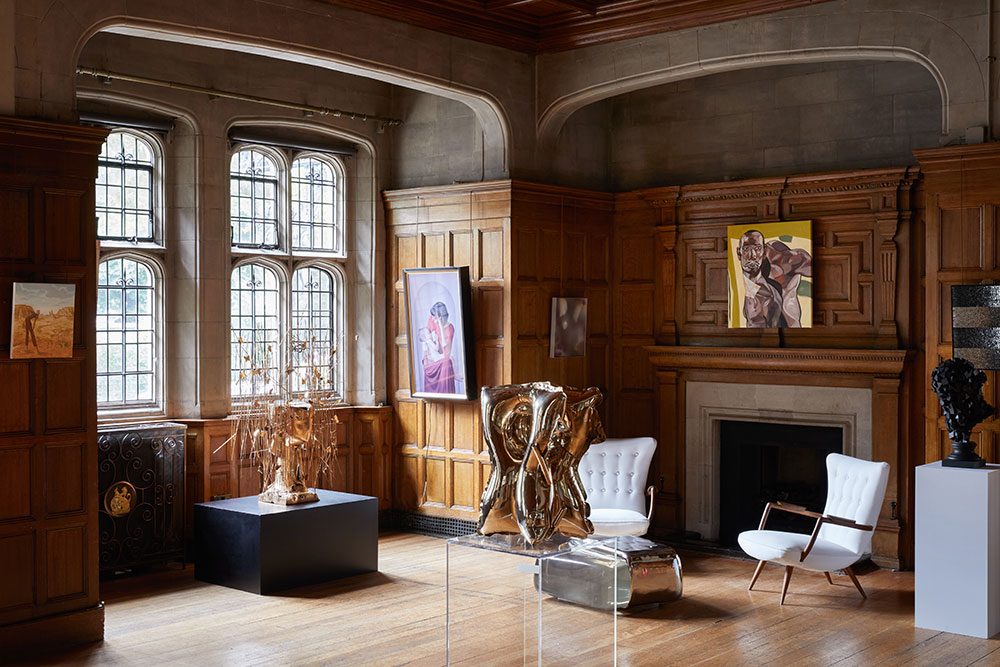 Image: Helen Cathcart / Eye of the Collector
Urban Life visits the grand exhibition space at Two Temple Place, chosen to house this year's Eye of the Collector biennale, showcasing the finest contemporary art in London.
Upon entering Two Temple Place, the thread of antiquity and classical art running through the Eye of the Collector is immediately obvious. Gold leaf is ubiquitous. Porcelain and ceramic stoneware sit alongside bronze and glass exhibits. Plates and bowls, statues and conceptual designs intermingle — "spot the old one" — as contemporary artworks rub shoulders with millennial artefacts within the auspicious neo-Gothic pile on London's Victoria Embankment.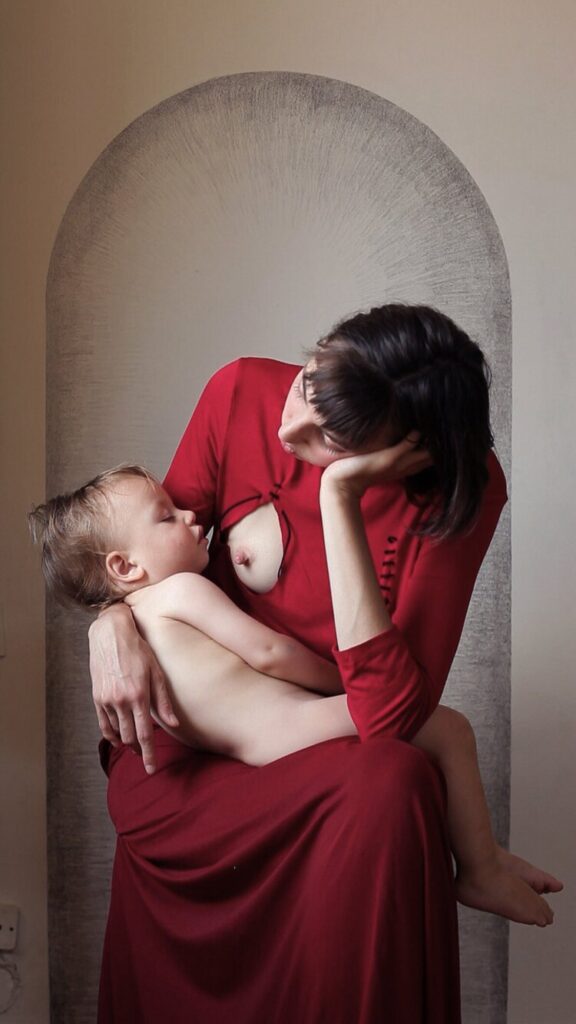 Sleeping Madonna by Leni Dothan is a great example of a modernist artwork that references the classics. A spokesperson explains Dothan's "practice is based in the analysis of Christian iconography, the sign of the cross and mother and child figures, and how that dictated the role of a woman in society and art.
"[Classically] you'll see that the Madonna figure is perfect. Pristine, but she is also very alone. When you look at her, thirty years later with the pietà, she is mourning alone." Here, on a single channel looping video, Dothan indicates the loneliness of motherhood, as she somnolently breastfeeds her child. A minimalist arch frames Dothan, and immediately references the classical and contemporary: "In this image, Dothan wanted to be this perfect pristine Madonna that you see in all the classical iconography, but she was literally falling asleep." Importantly, Dothan is reclaiming a uniquely female experience away from patriarchal narratives.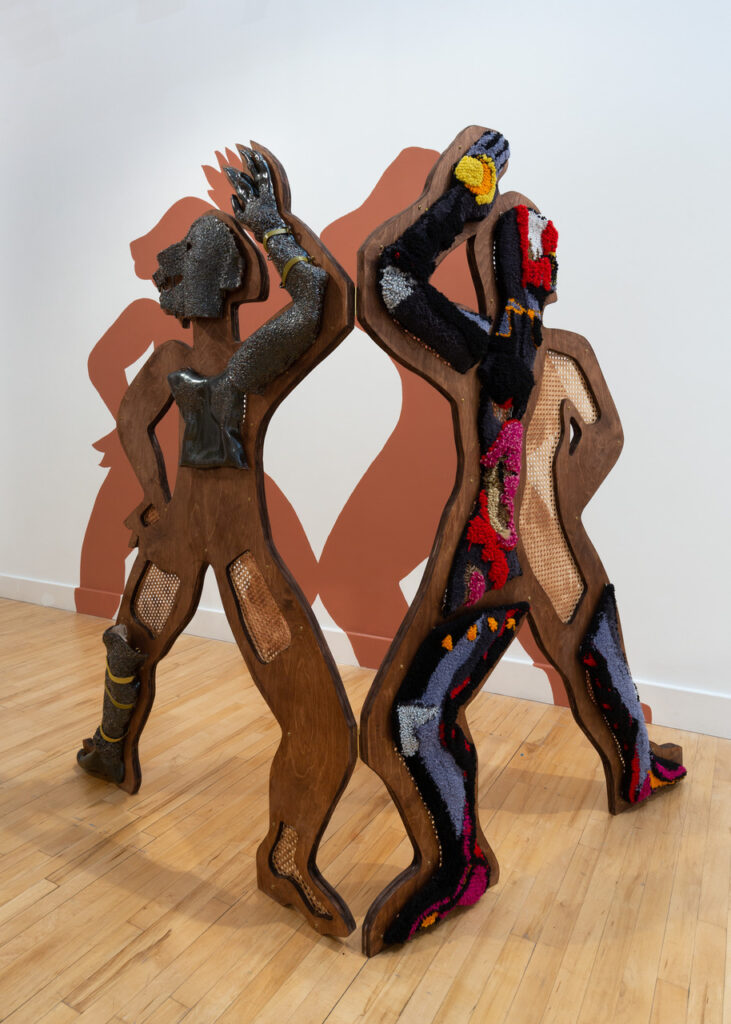 Upstairs, we are shown Dogmother by Anna Perach and Anousha Payne. Continuing with the theme of female identity, expression and transformation, the Ukrainian and British duo explore antiquity through Greek mythology, Southern Indian folklore and Iranian short stories. A cartoonish humanoid wooden frame provides the folding skeletal anatomy for Perach's 'tufting', creating three-dimensional carpets, while Payne uses glazed ceramic, metal fixings, salvaged leather to imagine this monstrous cadavre exquis.
Walter and Zoniel's Iconostatus series, similarly references antiquity using mixed media. Mixing photography, science and art, they produce one-off images to create unique celebrity portraits. A critique on the iconization of celebrity personalities, its juxtaposition with the Wagatha Christie trial, a stones throw from here, loses no irony. Digital art can alienate eyes trained on classical techniques and mediums, but there are shared principles. Alisa Yoffe, a radical Russian artist exploring the initiation of painterly creations on small handheld devises, her works escalate effortlessly to the large canvas. A spokesperson explains: "Yoffe represents the digital generation although she is not a digital artist, her working process takes place on a tablet or iPhone and the final work is acrylic on canvas. You can still see something of the digital medium she uses in the process."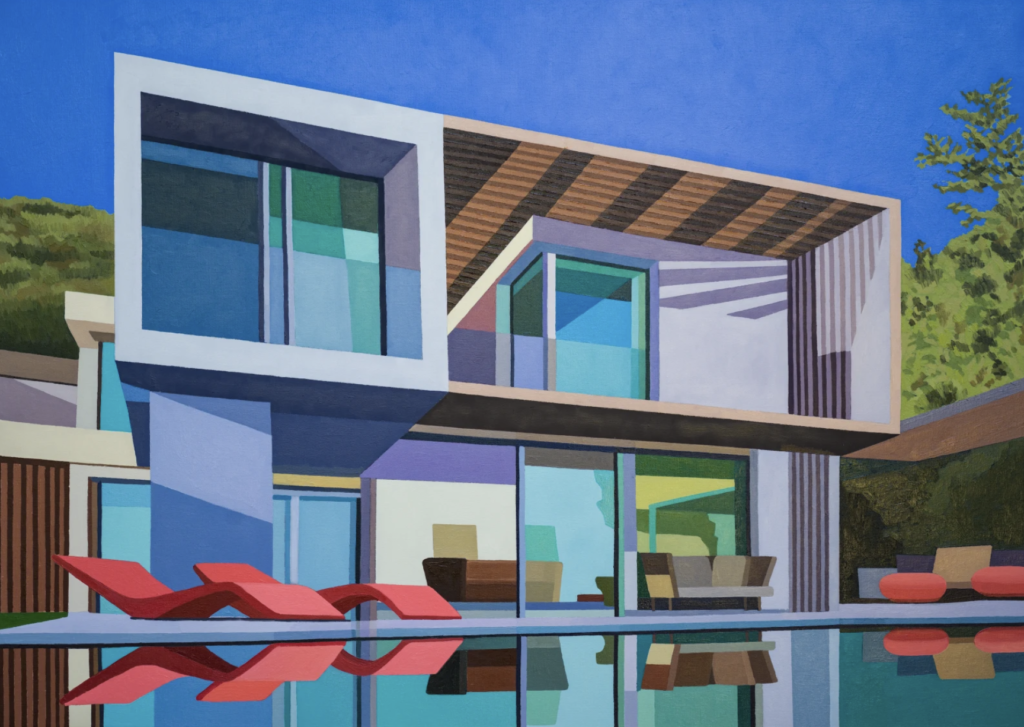 Summer Retreat: House On A Hill from the London-born, USA-based artist, Andy Burgess, is displayed among these modern and classical works. His elaborate architectural explorations of modernism and abstract painting are created by blending photography and paintwork. Despite idealising architectural modernism, Burgess believes the concept still shocks and continues to be shunned by society: "Despite the huge impact of early modern architecture, the innovative and subtle minimalist buildings that I am researching, with their concrete and steel frames, flat roofs and glass walls, never became the dominant mode of twentieth-century building. We have continued to build the vast majority of houses in a traditional and conservative idiom, so that these great examples of modern architecture are still shocking and surprising today in their boldness and modernity, almost a hundred years after they were built."
Perhaps as a whole, society still identifies with the standards set in antiquity, which continues to be referenced, reflected upon and reacted against by modern art. This collection sits perfectly within these musings, and challenges the notions of art and artefact. Look a little further, the considerations of private and public ownership creep forward. Who gets to see these rarest of historical objects? What remains obvious is that art that draws from culture, more widely channels antiquity and classicism, has the power to evoke the rarest of human emotion.
Nazy Vassegh, founder and CEO of the Eye of Collector, explains this marriage, "Eye of the Collector's ethos is all about encouraging new collecting pathways. The juxtaposition of ancient art alongside modern and contemporary works helps keep the ancient relevant, encouraging collectors to imagine how ancient objects can sit within a contemporary home."
All images courtesy of Eye of the Collector
The exhibition takes place between 11-28 May at 2 Temple Place, Temple, London WC2R 3BD
For further details, visit: www.eyeofthecollector.com