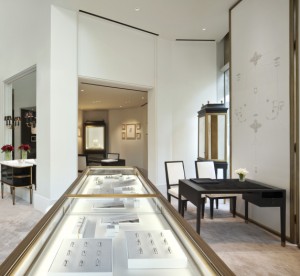 April 27 2012, Shanghai, China — Press Release: Harry Winston, Inc., the premier international jeweller and watchmaker, celebrates the opening of its first flagship Pavilion in Shanghai, China, with a stunning celebration highlighting the richly faced history of the 80 year old luxury brand, from its legacy as the "King of Diamonds" to the glamour of the Hollywood red carpet.
Located in XinTianDi, Shanghai's prestigious area famous for the convergence of eastern and western cultures, Harry Winston Shanghai Xintiandi Pavilion radiates a brilliant diamond, welcoming clients who appreciate the rarity, beauty, and exclusivity of the House's spectacular designs. Harry Winston unveiled the Pavilion, its latest architectural jewel designed with William Sofield and Studio Sofield of New York, at an afternoon ribbon cutting ceremony attended by distinguished guests including; Frédéric de Narp, President and CEO of Harry Winston, Inc., and famous Hollywood celebrities Leighton Meester and Ed Westwick, who both attended the ceremony wearing Harry Winston to help commemorate this important moment.
Following the opening ceremony, a gala dinner was held on the Taiping Lake nearby, where the jewellery House built a magnificent golden tent, poised on the surface of the tranquil lake like a sparkling jewel. Inside, the invited guests feasted their eyes on a splendid journey through the world's most incredible
jewels: a special gallery was arranged to showcase Harry Winston's masterpieces, including Iconic Winston styles, and the new Ultimate Adornments collection, inspired by traditional costumes and adornments around the world, from the Qipao, a Chinese form-fitting dress, to exotic Indian Caftans, to the intricate
beauty of point d'Alençon, the Queen of lace.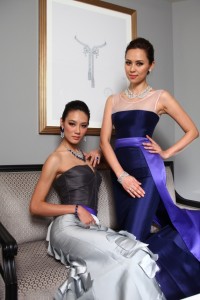 As soft music filled the tent, the gala dinner began with a reflection on the brand's most dazzling moments throughout its 80-year history, followed by a stunning fashion show, with models draped in diamonds from Harry Winston's Ultimate Adornments collection, and Chinese traditional dresses custom designed by Judy Hua, one of the most promising fashion designers in China. The event closed with a surprise performance by pop singer Jay Chou, who dazzled the audience as he played from his famed white piano, singing the songs that showed his distinguished talent in integrating western elements with traditional Chinese music.
Surrounded by the intoxicating blend of heritage, glamour, rarity and beauty, the exclusive jeweller created a spectacular one-of-a-kind evening that vividly confirmed to the public that Harry Winston, with its time-transcending masterpieces, has taken roots in China and is set to continue to write its brilliant legend in Shanghai.
Ends
All images courtesy of Harry Winston.