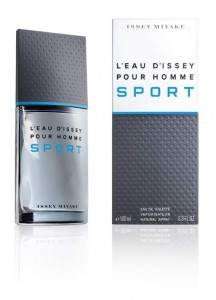 Issey Miyake just added a new fragrance to their product line; L'Eau d'Issey pour Homme Sport. The launch took place at the Issey Miyake store on Conduit Street recently.
"Intended by its creator Jacques Cavallier to embody "the deep breath of satisfaction that a mountain climber takes when he reaches the summit," L'Eau d'Issey pour Homme Sport is a fragrance inspired by life. THE vital breath that sparks and impels every movement, from the roughest gesture to the most polished sporting manoeuvre. With bergamot and grapefruit, L'Eau d'Issey pour Homme Sport takes on the freshness of the open air and high altitudes. The middle note emanates a spicy note of nutmeg like a winning embrace.
Although Air is its element and Water its active principle, it is from the Earth that L'Eau d'Issey pour Homme Sport derives the smoky notes of vetiver roots and the woody essence of cedar to impart character and elegance. A fresh, woody eau de toilette that enriches the L'Eau d'Issey pour Homme line with invigorating energy."
We like it!