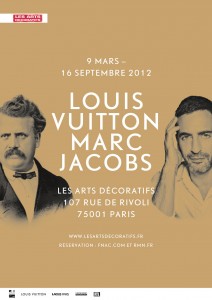 Louis Vuitton Marc Jacobs Exhibition at the Arts Decoratifs
Date: 9 March – 16 September 2012
Address: Les Arts Decoratifs, 107 Rue de Rivoli, 75001 Paris
Press release:
The exhibition is opening on Wednesday 7th March 2012 (to the public from the 9th) and will show how with over a century between them, both Louis Vuitton, founder of the house of Louis Vuitton in 1854, and Marc Jacobs, its artistic director since 1997 were able to fully discern their specific era and take advantage of all the possibilities offered
The exhibition space, curated by Pamela Golbin and designed by Gainsbury and Bennett, is spread over two floors, each dedicated to the creators.
The first floor, devoted to Louis Vuitton, explains how, under the Second Empire, he was able to develop his packing company in a rapidly growing district. The industrial revolution brought about new technical possibilities, while giving rise to affluent customers: an increasingly high number of aristocrats, bourgeois and rich tourists were beginning to travel more frequently, yet the expanding number of garments required made transportation more difficult.
The second floor explains how, since 1997, in a world of fashion that has expanded on an international level, Marc Jacobs has adopted the Louis Vuitton cultural codes and added his own personal touch. And so, quite naturally Marc Jacobs, who perfectly embodies today's contemporary creator, called upon artists like Stephen Sprouse, Takashi Murakami and Richard Prince – associations between art and fashion that have become textbook examples for the industry.