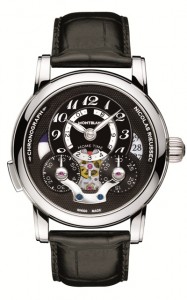 To celebrate the 190th anniversary of the Chronograph, Montblanc paid homage to its inventor Nicolas Rieussec by producing the 'Nicolas Rieussec Chronograph Open Hometime' last year, which made its debut at this year's SIHH. This is the newest addition to the Rieussec collection, which Montblanc has been producing since 2008.
When Rieussec invented the Chronograph, it revolutionised the world of fine watch making by measuring time to an accuracy of a fifth of a second, and Montblanc's recent project; 'The Beauty of a Second', continues to explore this theme by applying it to the world of film making.
So what exactly can you do with a second? As it turns out, quite a lot actually. And, under the watchful eye of master film-maker, Wim Wenders, this question has sparked a great debate and attracted competition entries from all over the world via Montblanc's dedicated website: www.montblanconesecond.com
The competition has now closed, and the winners were announced at the award ceremony at the historic Astor Lounge in Berlin on March 20. In attendance were stars of stage and screen, media, artists and creatives, including Our Editor-in-Chief, Ataur Rahman, who attended the event with actress Selina Lo.
"One of the great things in cinema is how it makes us aware of time. Each film consists of many brief moments of life that all together create a unique space of time. What if you could contribute to the movie of life. The short film contest 'The Beauty of a Second' pays homage to Montblanc's Nicolas Rieussec's invention of the Chronograph." Wim Wenders
Red carpet images from the award ceremony at the Astor Lounge

All images © Getty/Montblanc