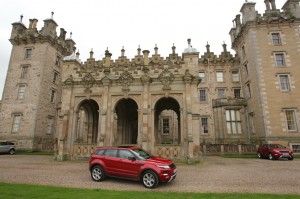 The Range Rover Evoque was shown as the concept LRX back in 2008 at various international motor shows. It had its global launch at the Geneva Motor Show in March 2011, followed by various promotional launches around the world attracting a lot of attention.
So after flying up to Scotland for its UK launch towards the end of last year, I experienced my first drive in the new Evoque. Various combinations of 3 and 5 door models in numerous configurations and colours were lined up ready to be put through their paces. The first thing you notice about the car is its wedge shaped design – almost as if it had been squashed from behind! Inside is a different story however with plenty of room and the finish is what you would expect from a luxury SUV of the Range Rover clan.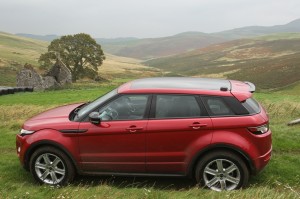 We took off into the borders in a top of the range dynamic 5-door .The car has a 2.2 diesel with automatic transmission, with auto stop start. Although for those who want something sportier this can be switched to Sport mode for a little more oomph, including gear change with the paddles on the steering column. A panoramic glass roof with power blind allows for a good all round view. The central console has an 8 inch high resolution display which has everything from sat-nav to full TV; should you get bored. We are used to cameras for rear view and parking, but the Evoque takes park assist to new levels with a 5-camera surround system with tow assist, allowing for an all round view, including those mounted under the large wing mirrors that feature blind spot indicators for vehicles coming alongside, as well as two others in the front spoiler…
The Range Rover Evoque test drive was featured in the March edition of Urban Life magazine. You can read the full article here.