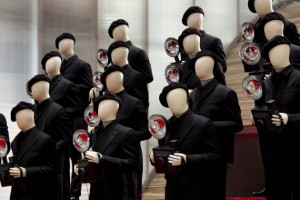 May 7 2012 – Press Release: Elsa Schiaparelli and Miuccia Prada's Impossible Conversations at Metropolitan Museum's Costume Institute – May 10–August 19, 2012
Gala Benefit May 7, 2012, with Honorary Chair Jeff Bezos and Co-Chairs Carey Mulligan, Miuccia Prada, and Anna Wintour; Baz Luhrmann Serves as Exhibition Creative Consultant with Nathan Crowley as Production Designer.
The spring 2012 exhibition organized by The Costume Institute of The Metropolitan Museum of Art is Schiaparelli and Prada: Impossible Conversations. The exhibition, on view from May 10 through August 19, 2012 (preceded on May 7 by The Costume Institute Gala Benefit), explores the striking affinities between these two Italian designers from different eras. Inspired by Miguel Covarrubias's satirical "Impossible Interviews" for Vanity Fair in the 1930s, curators Harold Koda and Andrew Bolton orchestrate conversations between these iconic women to suggest new readings of the designers' most innovative work.
The exhibition is made possible by Amazon. Additional support is provided by Condé Nast.
"Given the role Surrealism and other art movements play in the designs of both Schiaparelli and Prada, it seems only fitting that their inventive creations be explored here at the Met," said Thomas P. Campbell, Director and CEO of The Metropolitan Museum of Art. "Schiaparelli's collaborations with Dalí and Cocteau as well as Prada's Fondazione Prada push art and fashion ever closer, in a direct, synergistic, and culturally redefining relationship."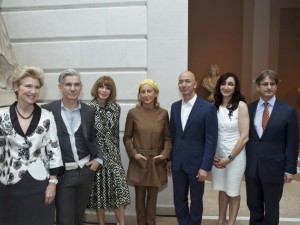 To celebrate the opening of the exhibition, the Museum's Costume Institute Benefit takes place on Monday, May 7, 2012. For the first time in its history, red carpet arrivals will be live streamed from 6:30 to 8:30 p.m. on metmuseum.org, amazon.com/fashion, and vogue.com. The evening's Honorary Chair is Jeff Bezos, Founder and CEO of Amazon.com. Co-Chairs are actress Carey Mulligan, designer Miuccia Prada, and Anna Wintour, Editor-in-Chief of Vogue. This fundraising event is The Costume Institute's main source of annual funding for exhibitions, acquisitions, and capital improvements.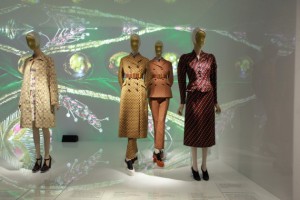 The exhibition is organized by Harold Koda, Curator in Charge, and Andrew Bolton, Curator, both of the Met's Costume Institute. Film director, screenwriter, and producer Baz Luhrmann is the exhibition's creative consultant, and has created a series of filmed elements for the exhibition. The production design for the films is by Luhrmann's longtime collaborator, Catherine Martin. The exhibition design is realized by Nathan Crowley, who serves as production designer (he was creative consultant for the Met's exhibitions Superheroes: Fashion and Fantasy and American Woman: Fashioning a National Identity). All mannequin head treatments and masks are designed by Guido Palau.
The design for the 2012 Costume Institute Gala Benefit is created by Crowley and Raul Avila (who has produced the Benefit décor since 2007) with Luhrmann as creative consultant.
ENDS
All celebrities dressed by Prada
All pictures courtesy of Prada