MP4-27 TECHNICAL LAUNCH SHOWCASES STRENGTH IN DEPTH AT VODAFONE McLAREN MERCEDES
Woking, UK, February 1 2012 (press release – edited version)
The continuation of our double world-champion driver line-up, further consolidation of our championship-winning engineering team and a subtle, yet deep-reaching technical update of our car all underpin the world-class strength, experience and ambition that exists at Vodafone McLaren Mercedes ahead of the 2012 FIA Formula 1 World Championship. This morning's technical presentation of the MP4-27 at the McLaren Technology Centre showcased a natural evolution of last year's six-race-winning car and underlined the message that the new season is very much one of growth through strength and continuity.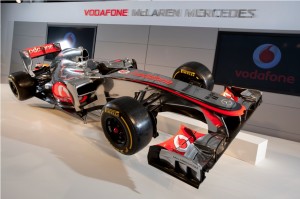 After finishing second in both the drivers' and constructors' championships in 2011, our aim for the new season is to fight for both world titles from the very start of this year's campaign. Evolutionary design of MP4-27 masks overhaul of all major systems
While the all-new Vodafone McLaren Mercedes MP4-27 closely resembles last year's multiple race-winning car, the 2012 chassis has been substantially revised from the ground-up, with all major systems updated or re-designed for the new season. The most evident visual differences include more tightly waisted rear bodywork, developed to improve flow to the rear of the car, and a revised cooling system, which re-directs the gearbox oil-cooler. Last year's U-shaped sidepods have also been re-designed – a legacy of the FIA's new exhaust regulations that redefine the shape of the rear bodywork.
Best driver line-up in Formula 1 retained for third successive season maintaining the belief in the validity of strengthened continuity, Vodafone McLaren Mercedes is the only team in Formula 1 whose driver line-up consists of two world champions: Jenson
Button and Lewis Hamilton. Between them, they have scored 22 grand prix victories for Vodafone McLaren Mercedes and are the strongest and most consistent driver line-up in the sport. Maintaining the partnership into a third successive season was merely a formality. Strength drawn from consolidation of engineering and race teams. On the technical front, our exemplary engineering trio Tim Goss (director of engineering), Paddy Lowe (technical director) and Neil Oatley (director of design and development programmes) once more remain at the forefront of the drawing office. For 2012, they will be joined by sporting director Sam Michael, whose arrival coincides with the re-organisation of our trackside personnel roster to ensure both growth and development within the group.
Away from the track, the team continues to develop, too: Vodafone McLaren Mercedes last year became the world's first carbon-neutral Formula 1 team, efficiently managing its carbon footprint and purchasing carbon credits to completely offset its emissions. As well as continuing relationships of record-breaking length with partners such as Hugo Boss (31 years), TAG Heuer (27 years), Kenwood (22 years), ExxonMobil (18 years), MercedesBenz (18 years), Hilton (eight years) and Vodafone (six years), our new strategic partnership with GlaxoSmithKline continues to gather pace. Development and planning continue on the McLaren GSK Centre for Applied Performance, while GSK's Lucozade scientists are busy developing a groundbreaking cockpit drinks formula to hydrate our drivers during grands prix in 2012.
Finally, in a year when the world's spotlight will shine on London and the 2012 Olympics, we're proud that equipment and technology pioneered at the racetrack by Vodafone McLaren Mercedes and developed by McLaren Applied Technologies will be used by Team GB's athletes in their quest for Gold this summer. Following a one-day private shakedown, Jenson will begin track testing of the MP4-27 at Spain's Circuito de Jerez on Tuesday February 7.

Driver Line Up: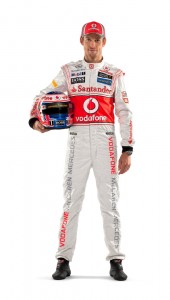 JENSON BUTTON (GBR)
Age 32
F1 highlights:
Titles – 2009 world champion
GPs – 208
Wins – 12 (five for Vodafone McLaren Mercedes)
Poles – 7
FLs – 6
Points – 811
Websites – www.jensonbutton.com
Twitter – @jensonbutton
Jenson Button joined Vodafone McLaren Mercedes as the newly crowned world champion at the end of the 2009 season and re-signed a new multi-year deal with the team last autumn. His runner-up position in the 2011 world drivers' championship, including victories in Hungary and Japan and a career-best last-to-first final-lap win in Canada, along with nine further podium finishes, underlined his credentials as one of the most respected and complete drivers in Formula 1 history. The 2012 season will mark his 13th season in Formula 1.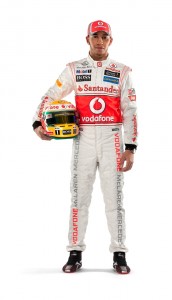 LEWIS HAMILTON (GBR)
Age – 27
F1 highlights:
Titles – 2008 world champion
GPs – 90
Wins – 17 (all for Vodafone McLaren Mercedes)
Poles – 19
FLs – 11
Points – 723
Websites – www.lewishamilton.com
Twitter – @lewishamilton
Lewis Hamilton made his Formula 1 debut with Vodafone McLaren Mercedes in 2007, immediately making headlines for his supremely assured blend of speed, wisdom and sheer audacity on the racetrack. A world champion at the age of 23 and, uniquely, a race winner in all of his five Formula 1 seasons, Lewis remains one of the fastest, most gifted and compelling drivers in F1 history. At the end of 2011, he threw himself into a series of intense preparations ahead of the new season, training at high altitude in Colorado and at home in Switzerland.