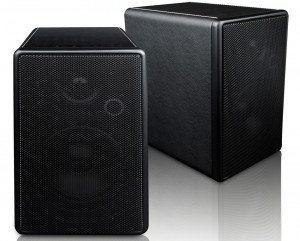 Blue Aura Launches its Sound Designs for Today's Lifestyles.
It's time for a new name in the UK audio market and that name is Blue Aura. Its founders have capitalised on their more than 30 years in the Hi-Fi industry to bring a totally fresh approach to new products that appeal to the most discerning music fan whilst fitting neatly, practically and elegantly into today's lifestyles. The love of music and faithful rich sound hasn't changed but the way we get our songs – whether via the internet, computer drive or MP3 – has. That's why Blue Aura has developed these new exciting alternatives to the conventional audio system that also recognise how we now want our homes to look.
Blue Aura's UK debut features two must-have products: The first of which being the WS80i Wireless Loudspeaker System. The ultimate in space-spacing and sound fidelity, the WS30i Active Monitors provide the perfect compact multi-use listening experience. Fitting neatly on desktop or tidily sandwiched on a bookshelf, these advanced multi- media speakers close the gap between computer speakers and home audio, enabling you to get the most out of sound – and space. Perfect for your iPod, TV or your computer, Wireless joy, the WS80i Wireless Loudspeaker System allows you to send the signal from any device – be it your MP3, your computer or your traditional Hi-Fi to the speakers which you can place anywhere in your home. With the amplifier integral to the unit, there is no need for external amplification. Priced at just £399, the WS80i delivers not only the most faithful sound but also a clean, elegant design – without the mess of cables – anywhere in the home. Thanks to its styling and luxurious finish, the WS80i stands out not only in performance but also design.
With a firm belief in providing great performance and exceptional build quality whilst incorporating the latest technological developments in electronics and manufacturing, Blue Aura will feed your passion for music and design excellence.
For further information, log on to the website: www.blueaura.co.uk
(This is taken from a press release. look out for the speakers featured in the magazine shortly.)